Babaali shows their new bicycle helmet the ASP-020 that has a built-in more than Full HD 2560x1440 video record and 16 megapixel photo record onto a built-in 16GB or 32GB storage, transfer files and charge by micro USB. Babaali also shows their Babaali ASP-030 smart construction helmet with real-time video and audio transmission, real-time intercom, bluetooth, wifi and 4G. Babaali makes 1-2 million bicycle and construction helmets per year. You can see more of my Babaali videos here.
Distributors can contact Babaali here:
Inna Fan
BABAALI
[email protected]
Mobile: +8618038615185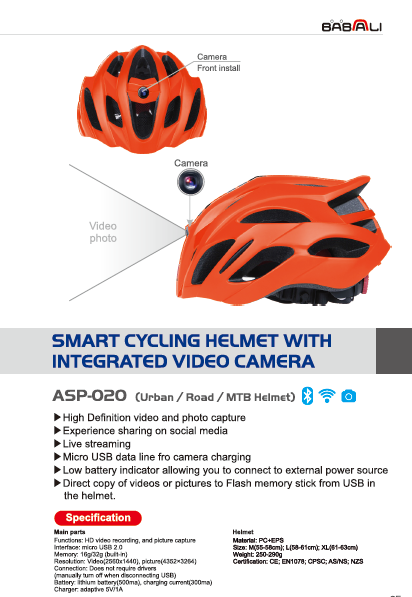 Babaali is giving away 5 samples of Babaali ASP-011 smart cycle helmet!! (value of $159 each) With built-in LED Turn Signal Indicators which are controlled by a wireless remote mounted on the handlebar. Features 4 Turn Signal Functions: Double Flash, Turn Left, Turn Right and Stop which is activated by the built-in accelerometer in the helmet. The Wireless Remote attaches easily to handlebars which can be transferred between bikes. Also see our Interview with Babaali featuring their other Smart Bicycle helmets including one with Smart Glass and Bone Conducting audio.
Babaali Smart Cycle Helmet With Smart Glass and Rear View Assist features a rear view camera and a Smart Glass at the front of the helmet to provide Bicycle riders with a clear and unobstructed view of the road in front and behind you at the same time. With the screen it also can support map navigation, speed, communications and any other handsfree app features during the bicycle ride. With Bluetooth inside, it also support answer a phone-call or stream music from your smart phone to the helmet, Babaali also show others smart bicycle helmets that they are already selling on the market, one with built-in LED turn signal indicators, controlling the LED lights by wireless remote control to turn right/left, double flash and fixed stop signal light. It is $129 with free shipping on Babaali's website.
Distributors can contact Babaali here:
Amy, CEO
[email protected] (please let them know you watched this video)
Check more info about Babaali Cycle Helmet here:
http://www.babaali.co/smart-cycle-helmets/
also see Babaali's official videos here: